Had another game of 9th yesterday at AFK Games in Holt! This time Andrew brought the forces of the Warmaster himself!
---
Bozeman – Azure Flames (Salamanders Space Marines)
Battallion

Captain Edgard, Warlord, Forge Master, Miraculous Constitution (Exemplar of the Promethean Creed -1 CP), Power Fist, Combi-Melta, The Salamander Mantle
Librarian, Bolt Pistol, Force Stave, Might of Heroes, Null Zone
Tactical Squad x5, Power Fist, Combi-Melta, Meltagun
Tactical Squad x5, Power Fist, Combi-Melta, Meltagun
Tactical Squad x5, Power Fist, Combi-Flamer, Flamer
Tactical Squad x5, Power Fist, Combi-Flamer, Flamer
Company Champion
Sternguard Veterans x10, Power Fist, 10x Combi-Melta
Sternguard Veterans x10, Power Fist, 10x Combi-Grav
Assault Squad x5, 2x Flamer
Land Raider Crusader, Multi-Melta
Razorback, Twin Lascannon
Rhino
Rhino
Rhino
---
Andrew – Black Legion Chaos Space Marines
Battallion

Abbadon the Despoiler, Warlord
Sorcerer in Terminator Armor, Prescience, Warptime, Angel's Bane
Dark Apostle
Dark Disciples x2
Chaos Space Marines x5
Chaos Space Marines x5
Cultists x30
Berzerkers of Khorne x9, Power Fist, 1x Bolter, 8x Chainsword, 8x Chain Axe
Chaos Terminators x5, 5x Chainfist
Obliterators x3, Mark of Slaanesh
Rhino

Patrol (-2 CP)

Lord Discordant, Mark of Khorne, Talisman of Burning Blood
Chaos Space Marines x5
Venomcrawler, Mark of Khorne
Venomcrawler, Mark of Khorne
---
Mission: Surround and Destroy
Primary Mission: Take and Hold (+5 VP for holding 1, 2, and more than the enemy.)
---
Setup
Turn 1 – Azure Flames
Rhino with 5 Assault Marines advances to take one of the center objectives. Rhinos each with 2x Tactical Squads move up cautiously. Land Raider moves up and blasts the Lord Discordant with a Multi-Melta and the cultists with all other weapons. The Razorback finishes off the Lord Discordant.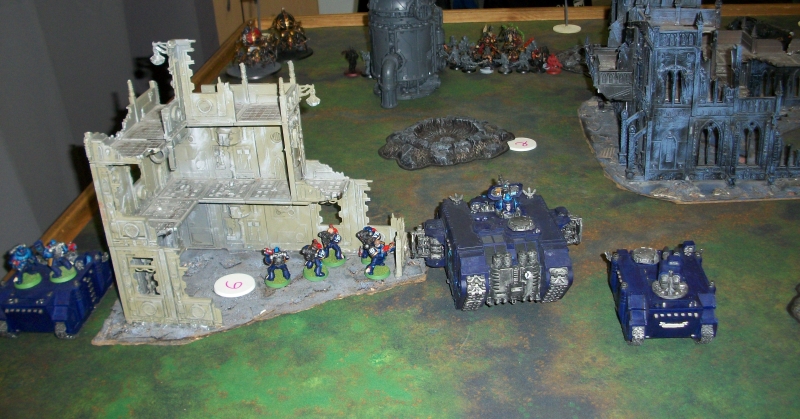 Turn 1 – Black Legion
Berzerkers pile out and charge the Rhino with the Assault Squad. After 2 rounds of combat, the Rhino dies and the Assault Squad piles out, only to be engaged by the Berzerkers. Abbadon and the rest of the left flank move up and do minimal damage to the Land Raider. Two of the Chaos Marine squads perform actions on objectives to gain points.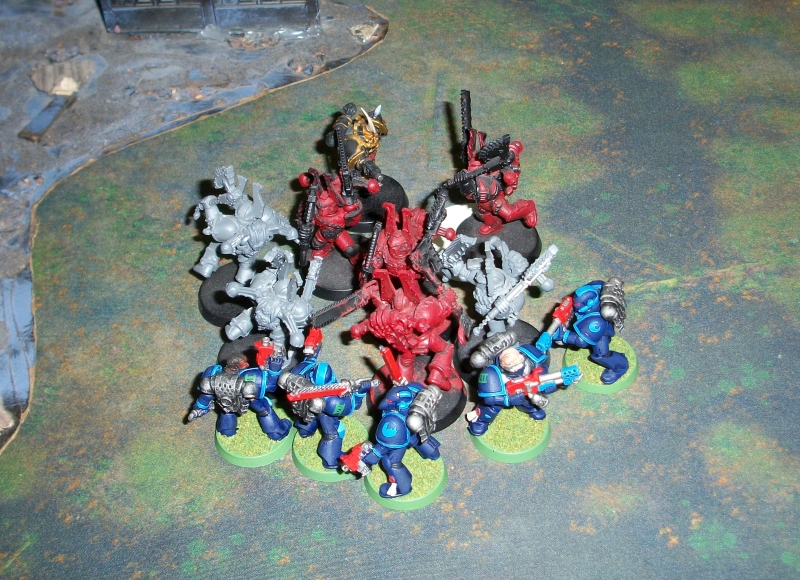 Turn 2 – Azure Flames
One Tactical Squad, the Melta Sternguard, and the Characters pile out of their vehicles and blast the Cultists and the red Venomcrawler, removing all of them. The Librarian attempts to cast Null Zone and Might of Heroes but fails both rolls. Assault Squad falls back, and two Tactical Squads blast the Berzerkers, who die in a flurry of bad rolls.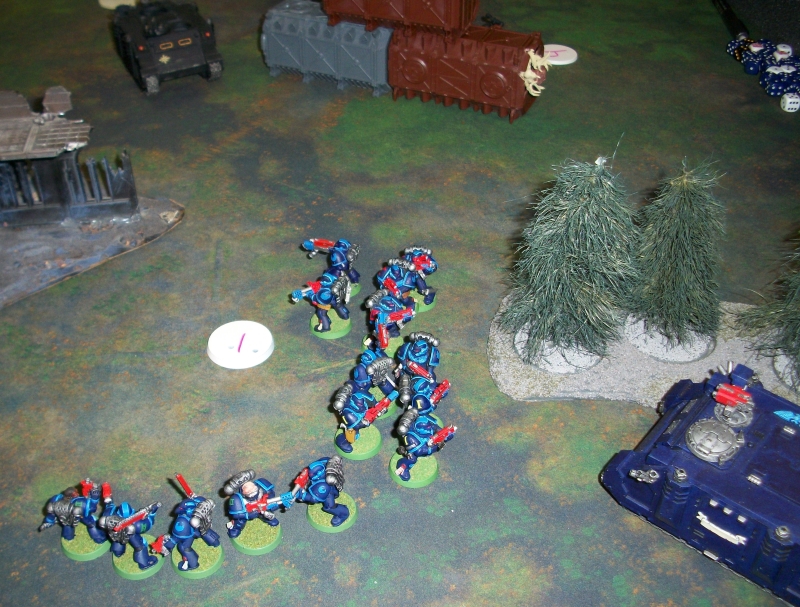 Turn 2 – Black Legion
Terminators arrive on my board edge, but one of the Grav Sternguard Combat Squads uses Auspex scan, and with another flurry of bad rolls, all 5 Terminators are eliminated! Obliterators arrive in the central building and reduce the Land Raider to 2 wounds. Sorcerer kills the Librarian with Angel's Bane. Abbadon charges the Land Raider, finishing it, then piles into the Razorback. Rhino charges all three squads in the right center, and causes one wound to the Assault Squad before the Tactical Sergeants kill it. Remaining Venomcrawler assaults the Melta Sternguard who totally whiff Overwach. Captain Edgard and the Company Champion Heroically Intervene, but the Venomcrawler kills Edgard and the Champ, and 4 of the Sternguard after fighting twice! Turn not pictured.
Turn 3 – Azure Flames
One Flamer squad on the right side advances, while the Melta Squad and Assault Squad attack the Obliterators, killing one. Razorback falls back from Abbadon, and shooting reduces him to 4 wounds. Flamer squad on the left pops out of the Rhino and advances. Sternguard fall back and Melta fire erases the last Venomcrawler, who explodes!
Turn 3 – Black Legion
Obliterators move down to get farther into enemy territory for points, and blast the Razorback, reducing it to one wound. Once again, Abbadon finishes the job, killing the Razorback and consolidating into the Rhino. Sorcerer in Terminator Armor charges the Melta Sternguard and is vaporized by overwatch! Dark Apostle also charges them, narrowly avoiding Born Protectors Overwatch fire from the smaller Tactical squad, and charging so they cannot Heroically Intervene. Chaos Marine squad on the right objective charges the Flamer squad, but get seriously damaged for the effort.
Turn 4 – Azure Flames
Melta Tacticals on the right kill one Obliterator and reduce the second to one wound. Assault Squad can't hurt it, but a lucky bolt round from the Rhino finishes the poor Obliterator! Fight continues in the upper right, leaving the Aspiring Champion alone against four Azure Flames. Rhino falls back from Abbadon, and the Melta Squad and Grav Squad put the Warmaster down! Melta Sternguard finish the Dark Apostle in combat (power fist whiffs, but regular attacks are rolling amazing!) Flamer squad in the upper left flames one Chaos Marine squad who die thanks to bad rolls, and then charges another squad on the objective! Game Ceded.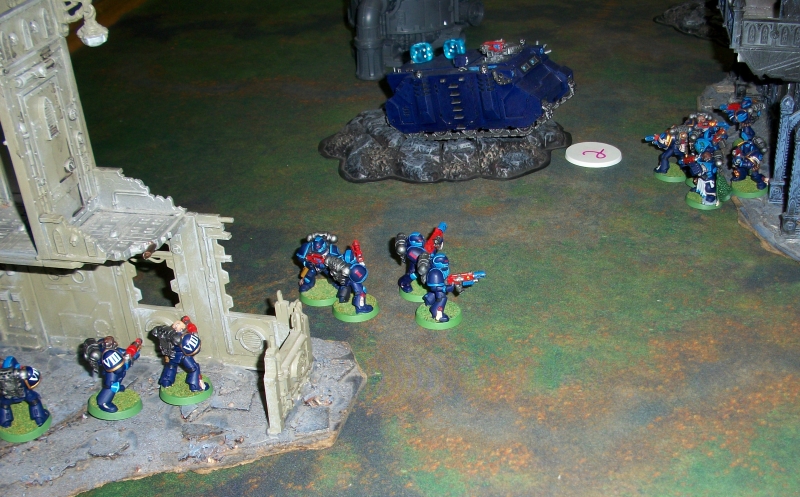 ---
Final Score
Azure Flames: 50
Black Legion: 35
---
Thoughts
This list, which I called Rhino Rush, is AMAZING for 9th! I built it as a thought experiment for 8th, but never wanted to use it. Now I don't want to stop. It's perfect for going out and accomplishing objectives which is all 9th is about!
Andrew played a good game. There was one moment where he forgot to shoot twice with Obliterators, and he probably should have been more conservative when deep striking the Terminators, but other than that, he lost due to bad rolls during key times. Likewise, I didn't really do much to complain about, but had some amazing rolls (including three different D6 damage rolls of 6!) This is a good mission, but I'm hoping to play a different one next week.
Next: the second half of the Assault Intercessors and another Tactical Squad revamped!