I've been hinting at the return of some old friends. Long ago I ordered some Forge World Mk V armor to make a custom Honor Guard for Chapter Master Perseus: The Lightguard.
I never got to use them. They were too expensive. Now, honor guard seem to be an Ultramarines thing. Boo.
But they're not gone. In fact, they've crossed the Rubicon! Behold, my Indominus Bladeguard Ancient, the first of the Lightguard Reborn!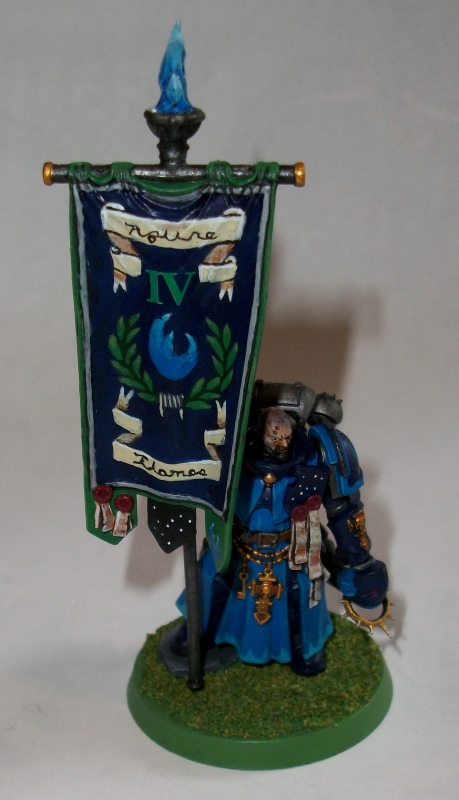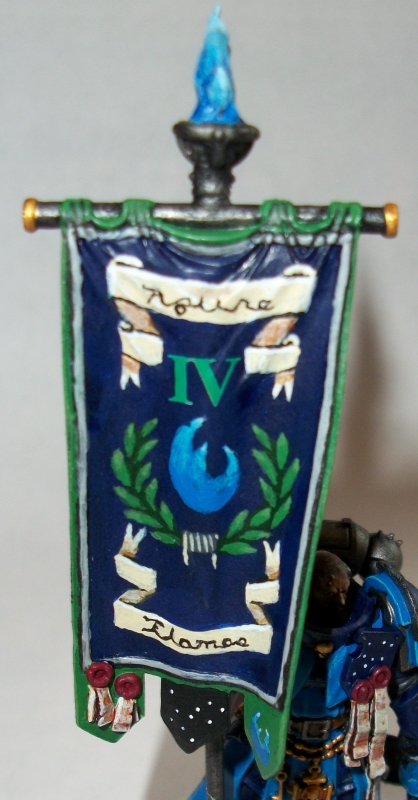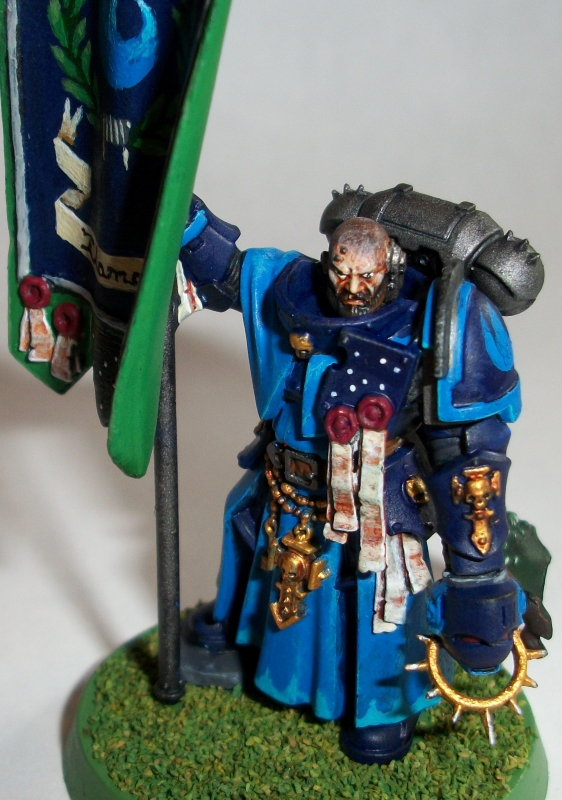 What's this? That's not the Bladeguard Ancient from the Indominus box! Where's his creepy skeleton banner and useless bone hand?
They've been removed. I drilled into the helmet, removed the skeleton hand, and carved the fingers so he can hold the helmet instead. I've replaced the head with a Sternguard Veteran head. I chopped off the skeleton banner and replaced it with the regular banner from the old Command Squad box set (I had a spare). Finally, a Black Ark Corsair cloak was green-stuffed onto his back, under the backpack.
Because the previous Lightguard had my first freehand banner, I could do no less for this venerable gentleman. The only part that is not freehand is the "IV" decal. I added the Lightguard Chasma Spica Constellation logo to both the banner and the heraldry shield on the chest. These stars represent the 11 star systems in the Azure Flame's home sector, fought over in BG V.
The cloak had each scale highlighted on both top and bottom for a nice 3D effect. The flame up top was started with Enchanted Blue and coated with contrast paint, then highlighted all the way to white.
Next: a squad gets their decals, and some Tactical Sergeants get finished!