Today was the last day of the Highland Library 40K club, and they finished it off with a HUGE swap meet! I brought my disused Orks and traded for some wonderful treasures, but first, the festivities! Actually documented thanks to my new phone!
Age of Sigmar was played for the entire duration. It's pretty popular in the Ann Arbor and Ypsilanti groups!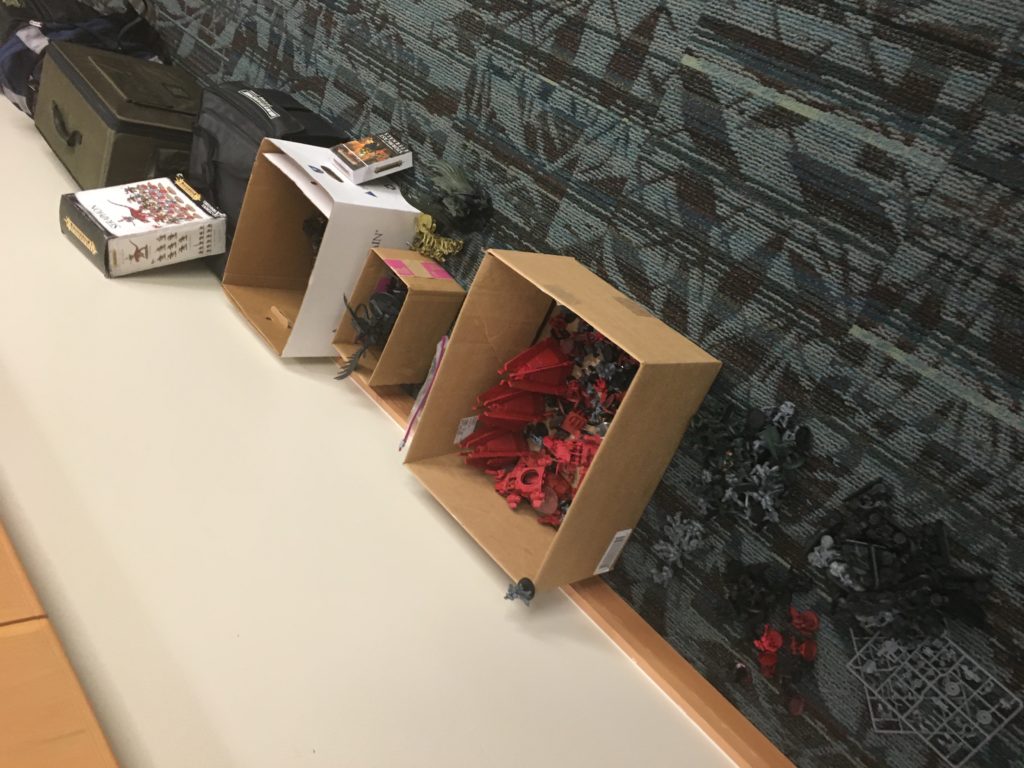 My good buddy Paul offloaded a boatload of Space Marines and other stuff from Age of Sigmar.
In a heated game of 40K, Salamanders fought traitor beastmen guard! The star of the match: a Leviathan Dreadnought who took multiple quake cannon shots to the face and devastated multiple tanks!
Here, Dawn and Ian celebrate 10 years of the club at the library with a wonderfully decorated cake, complete with the Golden Rhino logo. It was chocolate.
…and here is the beginning of my haul! First, a set of craters bought from Dominique, a former student.
Next, a bunch of Primaris models! Sadly one got lost in the shuffle, but hopefully Dawn can find it and I can pay her to mail it to me.
Finally, the sweetest deal, an ENTIRE PAPER BOX of leftover Tyranid bitz for $20! This is the beginning of my Tyranid Battlefleet Gothic fleet!
It's sad to see the Highland Library Club gone, but I have a feeling that there will be more gaming coming soon.
Next, painted Aggressors!