Had an amazing game of Gothic with Stephen, despite some setbacks.  But first, a shout out to all the peeps at AFK games in Holt for all the incredibly diverse games played!
First, some amazing Eldar tanks with clear red glazed canopies that look great!
Next, some shots of an amazing super-weathered Mantis Warriors army, fighting hard to regain their honor after the Badab war.  Those fellas could use a bit of fresh paint.  How about it, Munitorum?
Nathaniel's white Imperial Guard tango with Mr. Cat's tan colored Crimson Fists.
Josh's Brettonians square off against some Lizardmen!
One table was set up with the Robotech miniatures game!  Valkyries clashed with Zentraedi pods over a city!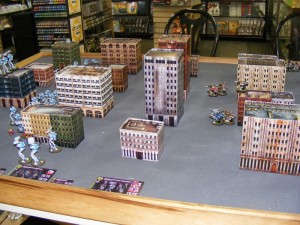 Long time Fourstrands contributor Stephen (Dark Angels) was practicing for a tournament with his partner, who had a stunning Saim-Hann Eldar army.
Finally, there was even some Warmahordes!  Here's a nice Circle list led by Morvahna.
——————————————————————————————————
Scenario – Fleet Engagement – 1505 points
Battlezone – Primary Biosphere
——————————————————————————————————
Bozeman – Azure Flames Space Marines
-Piers, Master of the Fleet, one re-roll (aboard His Hammer II)
-Battlebarge His Hammer II
-Battlebarge His Anvil
-Strike Cruiser Sacrifice, extra shield (squadroned with following two ships)
—Strike Cruiser Vigilance, extra shield
—Strike Cruiser Courage, extra shield
-Nova Frigates x2, Flame Squadron
——————————————————————————————————
Stephen – Imperial Navy
-Admiral (Ld9), one re-roll (aboard the Mars class battlecruiser)
-Retribution Battleship
-Mars Battlecruiser (squadroned with following two ships)
—Dominator Cruiser
—Gothic Cruiser
-Dauntless Light Cruiser, lances
-Sword Frigates x3
-Firestorm Frigates x3
-Cobra Destroyers x2
——————————————————————————————————
The Azure Flames Space Marines deploy in a Wedge (white area) to cut into the Sphere of the Imperial Navy (gray area).  Deployment map C:
——————————————————————————————————
Azure Flames turn 1
His Hammer II launches Thunderhawks and comes about.  Strike Cruisers go on All Ahead Full.  His Anvil fires Thunderhawks and Boarding Torpedoes to put the Imperials on the defensive.  Novas move up the edge of the board.
The Imperials are denied.
A threatening volley is fired!
Novas try to creep up the board edge.
Imperial Navy turn 1
The squadron of cruisers turns on His Anvil, which braces.  One Nova Cannon misses, but another hits!  …doing one hit.  Amazing fire from the Sword frigates lower the Battlebarge's other two shields.  Torpedoes from the Gothic stop the boarding torpedoes.  The rest of the fleet comes about to re-engage.  Thunderhawks take out one of the two Cobras.
Nova Cannon?  More like marshmallow cannon.
Cobras get too close, and Thunderhawks make them pay.
Azure Flames turn 2
His Hammer II goes on All Ahead Full and leaves the Imperials in the dust (cloud).  Strike Cruisers pool their Thunderhawks and fire a 6 strong wave.  Novas and His Anvil destroy 2 of the 3 Sword frigates.
Here come the Space Marines!
The Novas pounce!
Imperial Navy turn 2
Mars launches 4 fighters which take up CAP duties in the squadron.  Gothic launches torpedoes, but a terrible Turret roll by me and a terrible Torpedo roll by Stephen means all 6 torpedoes go right through me!  Up close and personal Nova Cannon shotguns hit His Anvil hard, but fantastic Brace saves prevent any damage.  Thunderhawks approach.  Remaining Sword goes on a suicide charge at the Novas.  The rest of the fleet goes on All Ahead Full with some fantastic leadership rolls!
Nova Cannons lay into His Anvil, which weathers the storm. 
The Sword prepares to sell its life dearly…
Don't spare the plasma!
Azure Flames turn 3
Remaining Sword lives, despite failing to Brace for Impact, TWICE!  Strike Cruisers mass for a strength 18 torpedo wave!  One Thunderhawk splits off to remove the screen from the Gothic class.  This along with fire from His Anvil cripples the Gothic class, causing an Engine Room critical.  The Mars also gets an Engine Room critical and two fires from Thunderhawks.
…h…HOW?  HOW DID IT LIVE?
The storm is coming…
Imperial Navy turn 3
Due to Engine Room criticals, the Gothic and Mars cannot turn, so they move minimum distance.  Torpedoes fired by the Gothic several turns ago strike the Dauntless, causing one damage!  Lagging fleet continues All Ahead Full.  Nova Canon shot does 3 hits to the Courage, doing 1 damage, and causing an Engine Room critical! The surviving Sword disengages!
Friendly fire!
The Dominator draws blood from the Strike Cruiser Courage.  A fantastic Nova Cannon shot makes it unable to turn!
Azure Flames turn 4
Thanks to the planet, His Anvil makes a turn and boards the Mars class, doing 9 damage and turning it into a drifting hulk.  The Courage and the Vigilance board the crippled Gothic, making it a drifting hulk.  The Sacrifice fires torpedoes and Thunderhawks at the Dominator, doing two damage and causing a Port Weapons Malfunction.  His Hammer II launches Thunderhawks to menace the incoming escorts.
The storm breaks upon the Imperials… (pictured above, the Vigilance is where the blank base is)
Here comes trouble…
Imperial Navy turn 4
Dominator tries to disengage, but fails!  The rest of the fleet sticks around to help it.  Lance fire takes two shields down from His Hammer II.
The rest of the fleet covers for the Dominator.
Azure Flames turn 5
Both Battlebarges go on Lock On, and the Strike Cruisers Come to a New Heading.  The fleet does four more damage (with some poor rolls), crippling the Dominator.  Turn not pictured.
Imperial Navy turn 5
All ships disengage, except the Firestorms who fail!  They make for a Gas Cloud for cover…  Turn not pictured.
Azure Flames turn 6
Strike Cruisers Reload Ordnance.  18 torpedoes kill the closest and farthest Firestorm, but an incredible brace roll saves the second Firestorm!  …which then dies to Thunderhawk gunships.  Game ends.  Turn not pictured.
——————————————————————————————————
Final Score
Azure Flames – 907
Imperial Navy – 10
——————————————————————————————————
*squirts Mountain Dew out of nose*
…OK.
Well!  Let's see what happened.  I got a great deployment opportunity to divide the Imperials.  Stephen had a 1500 list that he wanted to play, but it wasn't tailored to fight Marines.  Stephen could have unbalanced his deployment (because he had more to deploy) but he was about as balanced as I was.  Next, I got lucky with some missed Nova Cannon shots and UNBELIEVABLE boarding rolls.  His Anvil beat the Mars class by NINE.  That killed a completely undamaged cruiser in one go.  Finally, the two hulked ships remained as I held the field, giving me approximately 140 extra points.  Finally I got 120 extra points because the Firestorms failed to disengage.
Next: Super Secret Project, Gothic or 40K at AFK and EPIC ARMAGEDDON at Highland!