This weekend was a blast! Five players (not including myself) participated in a narrative six way multiplayer battle! An Inquisitor bullied the gangs into attacking an underground prison compound. Here was the board setup: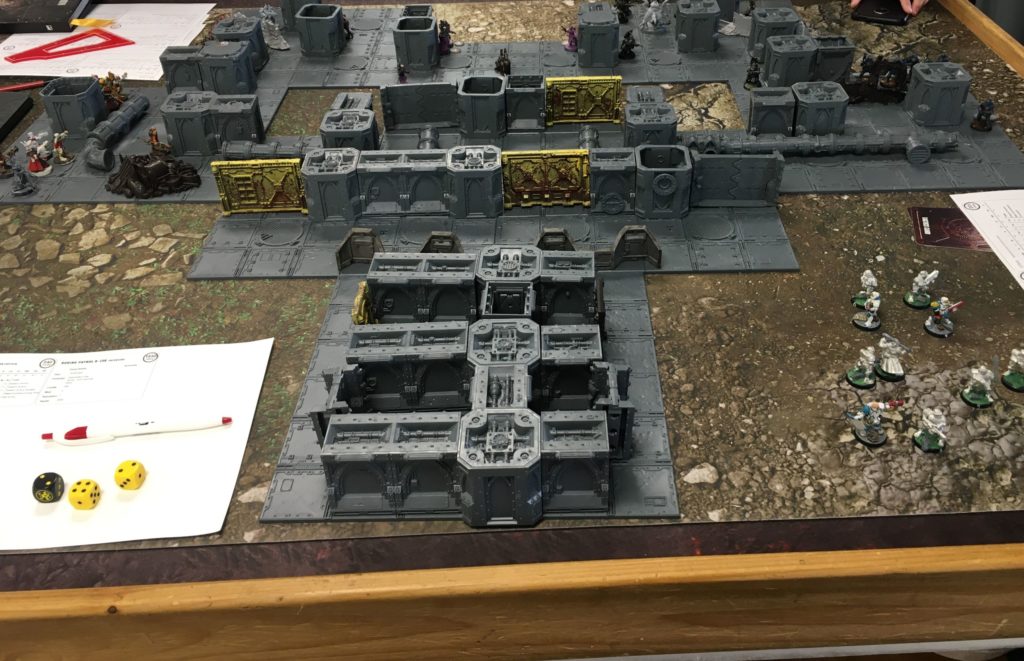 Each player got one of the 5 tiles on the top of this picture, and their goal was to kill a specific model and open the doors in the cells at the bottom. Things began cordially, and then Dan's Cawdor smoked one of Josh's Goliath's with a Krak Grenade arrow and it went downhill from there. Petra's ash waste bug monster rampages through the halls, killing at will. Zach's Palanite Enforcers went up the right side, smashing as they went.
All through this, odd things happened. The "Traitors" that the gangs were supposedly fighting had oddly accurate weaponry, and Matt's gang leader, an unsanctioned psyker, found himself trying to undo warpcraft from somewhere! Further, the target was eliminated by his own plasma pistol exploding and Dan's Cherub found something interesting on the body…
Finally, after two gangs bottled and most fighters were down, the cells were opened, to find the prisoners executed! Oh well, three players got special inquisitorial sanctions for not bottling.
After this, I managed to finish the special antagonists I've been working on: Squad Batarian, IVth Squad, VIIth Company of the Imperial Fists, stationed in the Necromunda Fortress Monastery.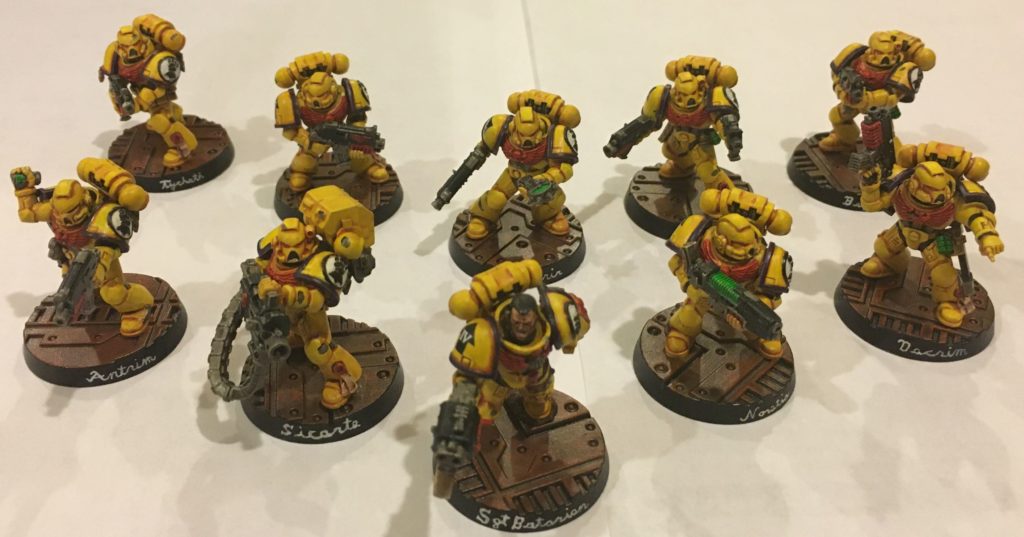 In truth they've been done for a while, but I was waiting on decals. No regular Space Marine sets have black tactical arrows! I had to special order two sheets of Imperial Fist ones.
As you can see above, I did two decals, one over the other. I also added some nifty battle damage and tried to get poses to be as dynamic as I could without repeating.
Marines were sprayed Wraithbone, coated Iyanden Yellow Contrast, and then brought up with yellow and highlighted light yellow. Reds are Blood Angels Contrast. Metals are Boltgun washed with Nuln Oil. I did the bases with black spray, Boltgun, and rust pigment, stippled in places with orange. Cursive names were freehand.
Soon: more gangers and more Necromunda goodness!